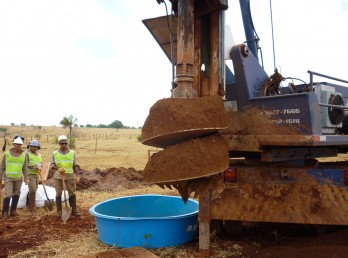 The Araguaia Nickel Project is the result of parallel exploration programmes undertaken in adjacent areas. Between 2006 and 2008, Teck Resources initiated prospecting work resulting in the grassroots discovery of four contiguous zones of laterite mineralisation. In 2007 HM began exploration in the area where the Lontra laterite mineralisation was identified to the NW of the Teck Resources discoveries.
From 2006 to 2008 Lara Exploration Limited, in a Joint Venture (JV) with Falconbridge Limited (acquired by Xstrata in 2006) and later Teck Resources, revealed nickel laterite mineralisation at Vila Oito West, between the Teck and Lontra discoveries, and at Floresta to the north of the other discoveries.
The client requested to build a project management team and  to run the exploration phase that leads into PFS.
Project Management
Planning and managing geological exploration for Ni Laterite in Brazil;
Supervision of resource drilling; implementation of standard operation procedures according to int. standards for sampling, analytical work and reporting;
Interpretation of historic & new exploration data; validation of data and preparation of those information for compliant resource statements (NI43-101); internal auditing
Conducting Preliminary Economic Assessment Study of a Ni laterite deposit in N-Brazil
Supervising calculation of ore reserves according to international standard (NI 43-101)
Budgeting of regional exploration (> 5 M€ pa)
Maintaining of exploration licences
Advising client on business development
Training of local staff; supervision of 4 local and int. Geologists, 6 Technicians and up to 30 external workers.
Setting up sample preparation and storage facilities for historic and new drill core
Supervision of re-logging campaigns
Implementing and supervising bulk sampling program for MET test work
If you are interested in similar services, please contact us.