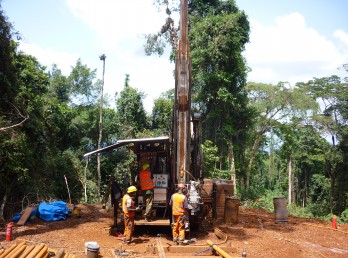 The Putu Iron Ore project is situated in the SE of Liberia in Grand Gedeh county. The mountain range contains one of Liberia's largest resource of high grade Irone ore.
Russia's second-biggest steel producer Severstal owns 100 percent of the Putu project — a 13 km (8 mile) long iron rich ridge around 130 km inland from the coast in eastern Liberia.
The company estimates iron ore resources of up to 4.4 billion tonnes at the site. It has completed a feasibility study and received a mining license from the government in 2014.
ECTerra has delivered the following on this iron ore mining project:
Planning and managing Pre-feasibility and Feasibility of a multi-billion USD project
Budgeting (currently > 50 MUSD p annum)
Coordination of national and int. consulting groups
Coordinating tender processes with construction companies
Supervision of daily activities – Mine camp and HQ Monrovia
Government Relation / Corporate Affairs Management
Community Relation Management
Negotiations of contracts, SoWs, ToRs
Human Resource Management in cooperation with the HR Manager
Responsible for > 500 staff
Training of staff regarding management, project schedules and budgeting
Coordination of all department and sub-contractors
If you are interested in similar services, please contact us.